45%
of a brand's image can be attributed to what it says and how it says it.
60%
of US millennials expect consistent experiences when dealing with brands
80%
of consumers say brand authenticity is the most influential factor in their decision to follow a brand
*Stats from socialmediatoday
Why Is Branding Important?
Branding is essential to a business because of the impact it makes on your company. Branding can change how people percept your brand, it can drive new business and increase brand awareness.The most important reason branding is important to a business is because it is how a company gets recognition and becomes known to the consumers. The logo is the most important element of branding, especially where this factor is concerned, as it is essentially the face of the company. This is why a professional logo design should be powerful and easily memorable, making an impression on a person at first glance. Printed promotional products are a way of getting this across.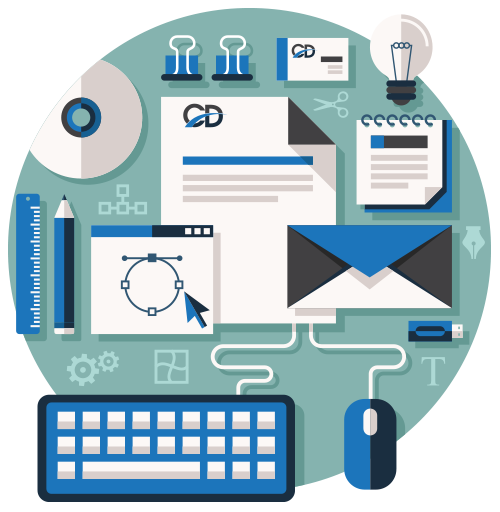 It takes thought, research, analysis and investigation to answer the 4 questions every brand must answer:
Who are you? Who needs to know? How will they find you? Why should they care? 
Whether you are just starting out or it's time for a face-lift, this is a vital exercise which lays the groundwork for the big deal to follow: the marketing strategy.
Our 4 Step Branding Formula
Discover
The purpose of the brand discovery is to take a fair and honest look at the current brand perception through evaluation of what the company, employees, and competition are currently doing and saying.

Strategy
Brand positioning is the process of positioning your brand in the mind of your customers. The idea is to identify and attempt to "own" a unique marketing niche for a brand, product, or service. The goal is to create a unique impression in the customer's mind.

Creative Implementation
The goal is to create a logo that is simple, iconic, and meshes the characteristics of your company. After all, your logo represents the personality, purpose, and style of your company, therefore, choosing a company to carry out your logo design is very important.

Brand Delivery
This is where it all comes together. Equipped with a compelling final product, a clear identity, and a confident message, your brand will be positioned well for long-term success. We're here to act as your branding partner as you continue to grow!